How To Relieve Painful Period Cramps With Exercise | With DivaCup®
Disclosure: This shop has been compensated by Collective Bias, Inc. and its advertiser. All opinions are mine alone. #PeriodConfidence #TryTheDivaCup #CollectiveBias
Periods can be a painful and nerve wrecking monthly experience. I often spend up to 16 hours in bed on the first night with cramps. Getting up to change my tampon every 2-3 hours was NOT working for me. I was tired of soaking through my tampons and ruining precious undies. I was in dire need of a new solution.
Insert the menstrual cup (#punintended).
The great thing about using a cup is that you can keep it in for up to 12 hours. Using the restroom is much easier without a cotton string hanging in the way. Although cramps still happen, the ability to work out without worrying about a shifting tampon was an A+ benefit for me.
I was excited I was able to run over to my local Target to get my DivaCup® We all know how frequent Target trips are so it was super convenient. Now if only I could stay out of that dollar aisle...
The DivaCup is available in two sizes, Model 1 and Model 2
DivaCup Model 1: Recommended for women under the age of 30 who have never delivered vaginally or by cesarean section.

DivaCup Model 2: Recommended for women age 30 and over/or for women who have delivered vaginally or by cesarean section.
Since I usually end up using so many tampons, using a reusable Femcare product is a no-brainer for me. The average cost of menstrual care for the year is $150. The DivaCup costs $39.99/year.
Many Women swear by The DivaCup® for their period needs each month. I understand why. Tampons and pads have chemicals while The DivaCup® is made from healthcare-grade silicone. I think I would rather not stick chemicals inside me.<p>
Click below to purchase your DivaCup® at Target!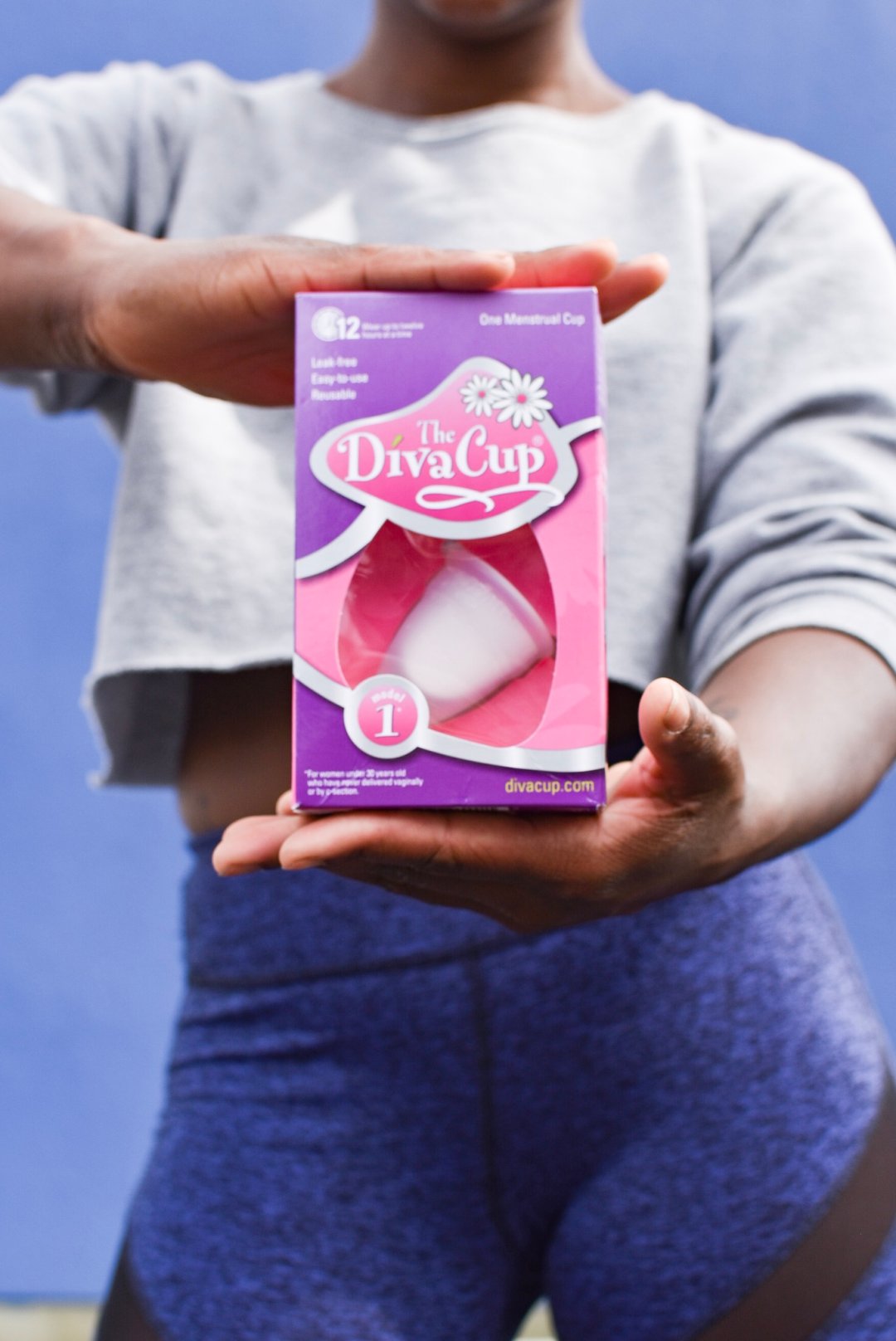 As with any new health-related product, please make sure to read the User Guide before trying the cup. Consult with your healthcare provider if they have for questions about vaginal or gynecological health.
I'm with you. I don't want to work out when I have cramps. I don't even want to move an inch. While I can't take your cramps away, I can give you 5 Low Impact Exercises to give you a bit of relief and keep you active during your period.
The key to helping relieve menstrual cramps is getting your heart rate up. I completely understand that you don't want to go running or hop on an elliptical while you are cramping (I never want to do those things, but I digress :)
This quick routine is a great way to get the blood pumping without the stress of a high impact workout. Since all of these exercises are performed on the floor, you can even do them in your bed if you aren't ready to get up and take on the world.
*Keep in mind that they will be more effective if you are on a stable surface, but I understand the appeal of doing it in bed.
Perform 3-4 sets of each exercise.
Alternating Leg Raises (20-30 reps)
Lift your shoulders off the ground to engage your core throughout the exercise.

Slowly alternate your legs up and down and perform a hamstring stretch at the top of the exercise.

For a more advanced version, perform the exercise with arms at side palms facing upward.
Glute Bridges (25-30 Reps)
Lay on your back with knees bent and feet shoulder width apart.

Raise your hips and squeeze your butt at the top of the movement

Make sure your back does not arch throughout the movement.
SIDE LYING LEG RAISES (15-25 Reps Each LeG)
Lay on your side, keeping a neutral spine. I like to lay all the way down rather than coming up on the elbow. Something I picked up from a ballet class.

Lift your leg to a comfortable height and bring down at a controlled pace.
Double Leg Stretch
Lay on your back and bring your knees to your chest, lifting your shoulders off the ground.

Stretch your legs outward simultaneously stretching your arms in a full circle.

Return to starting position.
PLANK (30-45 seconds)
This can be performed on elbows or hands

Remember to keep a neutral spine and tight abs.

Hold for at least 30 seconds.
Watch the video below for a demonstration of the exercises!